NEW JERSEY, USA, May 2023 — I Want To Mow Your Lawn ® is pleased to announce that it has officially become a trademarked entity, a significant step towards reinforcing its mission and commitment to serving communities that need it most. The United States Trademark Registration Number 7039883 encompasses the organization's exceptional landscaping services, including landscape gardening, lawn care, and yard care (International Class: 44, Service Mark, Principal Register).
Established in the summer of 2020, the non-profit has seen consistent growth and an outpouring of support, making this milestone a shared celebration with every member of the I Want To Mow Your Lawn ® community. As a testament to the organization's successful trajectory, 2023 is shaping up to be a remarkable year, featuring substantial infrastructure expansion and robust fundraising efforts.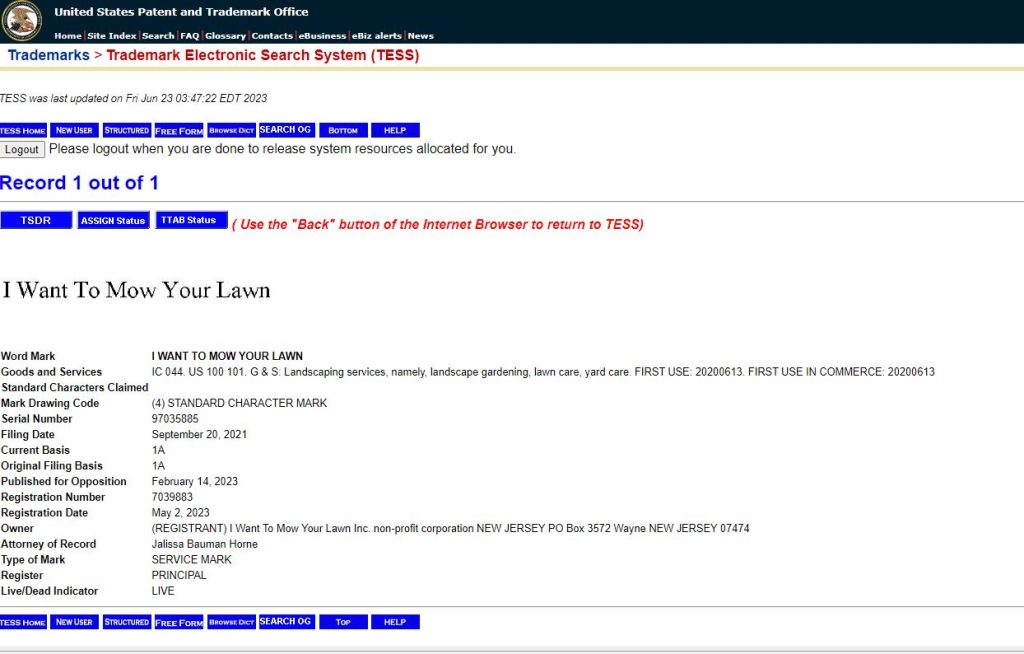 "We are beyond thrilled to mark this momentous occasion," said Brian Schwartz, Founder of  I Want To Mow Your Lawn Inc. "We owe it all to our dedicated supporters who have been with us since our inception. We are committed to making a substantial difference and look forward to reaching new heights."
In line with its mission, I Want To Mow Your Lawn ® anticipates a future filled with continued success and growth. As the organization extends its reach, it seeks to generate more "#MOWments," offering enhanced lawn care services and greening communities in a more efficient and effective manner.
Members of the public are encouraged to stay connected and follow the organization's progress via its official platforms. With every mowed lawn, I Want To Mow Your Lawn ® is one step closer to a greener and more sustainable world.
For more information, please visit our website, or connect with us on social media!
#OfficialTrademark #NonProfit #LandscapingServices #LawnCare #YardCare #NewJersey #Growth #Fundraising #MakingADifference #GoingGreen #GreenIndustry
About I Want To Mow Your Lawn Inc.
I Want To Mow Your Lawn Inc. is a non-profit organization that offers essential landscaping services to communities who need it most. Its commitment to going green and making a difference has seen the company grow from strength to strength since its establishment in 2020. Now trademarked, I Want To Mow Your Lawn ® stands as a testament to the power of community involvement and environmental conservation.
Press Contact:
Brian Schwartz
Founder
pr at i want to mow your lawn d0t com
862-66-mower