Kids across the country united in service!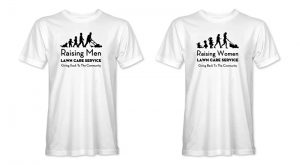 Raising Men & Women Lawn Care Service challenges kids 17 and under to cut 50 lawns FREE for the elderly, disabled, single parents, veterans , & anyone in need of help in and around their town. To accept the challenge officially, kids must upload a photo holding a sign saying "I accept the 50 Yard Challenge", and in return, the organization will send a FREE white Raising Men/Women shirt along with shades & ear protection to get started. For every 10 lawns cut, a new color shirt is sent!
Do you (& your kids) accept the 50 Yard Challenge? Join the Challenge!