Do you ever get tired of having to add gas and deal with dirty air filters with your gas-powered lawn mowers? Do you have HOAs as clients where they banned gas-powered landscaping equipment?
Then, it's time to invest in electronic mowers, blowers, and other landscaping equipment, especially since gas prices are soaring.
Top 4 Commercial Electric Mowers
Ten years ago, commercial electric mowers were still in their infancy. On the consumer side, many homeowners invested in battery-operated lawn mowers and blowers to handle small to medium-sized yards.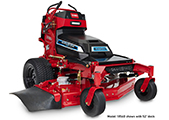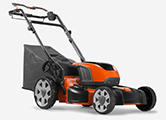 However, today's commercial electric mowers are coming into their own. One brand, Mean Green Mowers®, has the world's first commercial electric ZTR mower that can last all day on one battery charge. Mean Green Mowers® says that their ZTR commercial mowers have a battery life of eight hours!
Here are the four best commercial electric lawn mowers at a dealer near you:
Toro®: Toro is a trusted brand for commercial mowers and other professional landscaping equipment. Toro® has two electric mowers: the GrandStand Revolution stand-on mower and the Z-Master Revolution, a ZTR.

Husqvarna®:

Another trusted professional brand, Husqvarna®, has walk-behind electric mowers as well as electric trimmers, blowers, and battery-powered saws.

Mean Green Mowers®:

This green company invented the 8-hour battery that keeps you mowing more lawns without having to switch out batteries every four hours.



Learn more about I Want to Mow Your Lawn from CBS This Morning

Greenworks Commercial: This green company sells a Lithium Z 52" ZTR mower powered by a lithium-ion battery.
Professional Electric Lawn Mower: More Benefits than Drawbacks
Every product on earth has positives and negatives. Professional electric lawn mowers aren't any different. However, there are more positive features than negative ones, significantly since the technology has improved in the last decade.
So, do you want the good news or the bad news first? How about we start with the good news:
Commercial electric mowers cost less to operate than gas-powered lawn mowers. You don't need to worry about buying extra air filters, changing the mower's oil regularly, or purchasing gas to power up your mowers.

Professional electric lawn mowers are low maintenance. Again, they don't need the regular service that gas-powered mowers need regularly.

Commercial electric mowers also produce less noise than their gas-powered counterparts. Many HOAs and municipalities have noise ordinances that restrict gas-powered mowers and blowers. Also, battery-operated mowers don't have that annoying vibration associated with gas-powered mowers and blowers.

Professional electric lawn mowers are efficient and green simultaneously: You don't sacrifice efficiency when you switch to commercial electric mowers. Electric mowers don't use any fossil fuel, so less pollution goes into the air.

Watch more: Brian Schwartz Appears on The Drew Barrymore Show


Professional electric lawn mowers, trimmers, blowers

, and other power landscaping equipment keep you ahead of the curve as more cities and communities ban gas-powered lawn equipment.

Commercial electric mowers and power equipment save you money now. Pre-Covid 19, you weren't as worried about fuel prices as you are now.

Ukraine-Russia War and the pandemic have caused fuel and fertilizer prices to soar. While commercial mowers and landscaping equipment are significant investments, you'll save money by having to use less diesel and gasoline.
Now, to the commercial electric mowers and other landscaping battery-powered equipment cons.
There are only two of them:
Investing in professional electric lawn mowers for an entire fleet is still expensive compared to gas-powered mowers. However, you can try the hybrid approach where part of your fleet is electric, and the rest are powered with fuel.Also, remember that you will see a return on your investment as time goes on—with lower maintenance costs and no fuel costs to speak of.

The short battery life can impact your efficiency.

However, lithium-ion batteries are being replaced with batteries that last longer.
As mentioned above, there are at least two electric mower companies where you can either change out the battery while mowing or have an 8-hour battery to get the job done faster.
Put Your New Electric Mowers and Power Equipment to the Test by Volunteering with I Want to Mow Your Lawn!
Did you know that volunteering in your community is good for your commercial landscaping company as well as helping someone in need? (Read More)
---
During the lockdowns in 2020, Brian Schwarz decided to do some good to folks near his northern New Jersey home. He volunteered to mow their lawns for free!
Many of the people he helped were on limited incomes and could not mow their lawns due to poor health. Now, Brian's non-profit, I Want to Mow Your Lawn! has grown over the past two years.
You and your landscaping company can help senior citizens, the disabled, and others in your community who may need your lawn and landscape services but can't afford a professional service.
I Want to Mow Your Lawn started in 2020 when Brian Schwartz was laid off from his job during the Covid-19 pandemic. In the past year, Brian has been on The Dad, CBS, CNN, Fox & Friends, Southern Living, The Washington Post, among many other news outlets.
In this video, you can learn more about Brian and I Want to Mow Your Lawn. If you and your lawn care team want to get involved, call 862-66-MOWER or fill out their contact form.
Sources:
| | |
| --- | --- |
| | Wendy Komancheck owns the Landscape Writer where she writes business blogs and web content for lawn care, landscaping, and garden design companies. Guest blogs quarterly with I Want To Mow Your Lawn Inc. You can reach her at 717-381-6719, email her at wendy@landscapewriter.com, or fill out her contact form |
---
Latest Press Releases: