Latest Press Releases:
Award Winning Video for Non-Profit Category
The 27th Annual Communicator Awards received over 6,000 entries from ad agencies, interactive agencies, production firms, in-house creative professionals, graphic designers, design firms, and public relations firm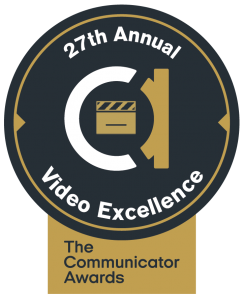 Amongst the 6,000+ entries — Featured Award of Excellence winners include UFC, PepsiCo, Forbes, BoxMedia, WWE, Microsoft, Code Red. GmbH, Comcast, and Disney Creative Studios, and so many more!
We are honored to be included in the winners list and so thankful for the team at RMP.NYC and Jingle Punks for their generous contribution to help produce this video in the middle of the pandemic:

https://www.youtube.com/watch?v=k4tPUHWBrWU 
The Communicator Awards is an annual competition honoring the best in advertising, corporate communications, public relations and identity work for print, video, interactive and audio.
The Communicator Awards are judged and curated by the Academy of Interactive and Visual Arts (AIVA). The AIVA is an assembly of leading professionals from various disciplines of the visual arts dedicated to embracing progress and the evolving nature of traditional and interactive media. Current AIVA membership represents a "Who's Who" of acclaimed media, advertising, and marketing firms including: GE Digital, Spotify, Condè Nast, Disney, Republica, Majestyk, Fast Company, Upstatement, and more.